Vote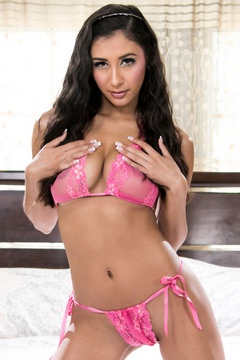 Gianna Dior
Number of Videos:

3

2018-11-08
22369
3
Videos with Gianna Dior
Date added:
2018-11-08
Rating:
Comments:
32
Description :
Lilly Hall and Candice Dare are hanging out on Lilly's bed as Lilly braids Candice's hair. Candice mentions that she's hot and asks Lilly if she could take a shower. She says sure and shows Candice where it is. Candice thanks her and closes the door. But Lilly can't resist the thought of her gorgeous friend and cracks open the door as Candice slips off her top and shorts, revealing her luscious body. Lilly is mesmerized by Candice's beautiful curves. As Candice steps into the shower and soaps up her juicy ass, Lilly can't take anymore. She begins to rub her pussy while gazing at her friend. Suddenly a voice in Lilly's head says 'She's so hot, you should just fuck her.' Lilly is shocked to hear the voice, but before she can think, another voice in Lilly's head chimes in: 'You really shouldn't, she's your friend.' 'But her ass is so beautiful', the first voice says. 'It's not worth it, she's been your friend for years', the second voice fires back. Finally, Lilly closes the door and walks away from the bathroom, her head spinning. Sitting down on the bed, she's freaked out about the voices she's hearing. Is she going crazy?? In answer to her question, Jenna Sativa, wearing a stunning red negligee, materializes out of nowhere on the bed next to her. Who are you?, Lilly asks, more freaked out than ever. Rubbing Lilly's shoulders, Jenna introduces herself as the naughty side of Lilly's conscience. She's here to help Lilly relax and give in to her desire to fuck Candice. After all, she is a strong, sexually empowered woman, she says as she grabs Lilly's tits and runs her hand along her body, kissing her hungrily. Moments later, things get even crazier as Gianna Dior, dressed as a beautiful angel, materializes out of nowhere on Lilly's other side! Lilly can't believe what she's seeing. Gianna introduces herself as the good side of Lilly's conscience. Twirling her hair flirtatiously on her finger, she tells Lilly that she's here to help her do the right thing and not fuck her friend. Adding that she can satisfy her so thoroughly that she doesn't need to fuck Candice, Gianna grabs Lilly and starts making out with her. Not content to simply watch, Jenna has an idea to lure Lilly to the dark side, and with a snap of her fingers, is suddenly naked, her juicy ass sticking out in Lilly's face. But Gianna has some tricks up her sleeve too, and with a snap of her fingers, her top is off, revealing her perfect breasts. And the battle for Lilly's soul continues as both sides of her conscience try to fuck their way to victory, with Lilly torn between her desire to do what's right and her desire to do Candice. Who knew inner turmoil could be so damn hot?
Categories :
Brunette
,
Girl on Girl
,
Member Fantasy
,
Threesome
,
Natural Tits
,
Rim Job
,
Fingering
,
Pussy Licking
,
Facesitting
,
Tribbing
,
Ass
,
Lesbian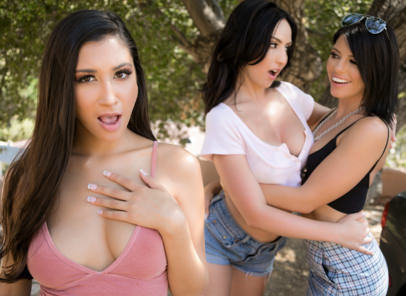 Date added:
2018-09-16
Rating:
Comments:
19
Description :
Adriana Chechik is bright and excited as she's prompted to 'Tell us about some of the craziest things you've ever done with one of your fans.' She instantly becomes flustered since there are so many good stories to share and she doesn't know where to start! But since this is GirlsWay, she has the perfect one. She shares a sexy adventure that's happened only recently while driving around trying to find a new location in Malibu. While stopping in a driveway and asking for directions, two sexy brunettes, Gianna Dior and Jade Baker, come to her rescue. There's no hiding the fact that they recognize Adriana and that they're her biggest fans. When Gianna and Jade say that they're more than happy to help and for Adriana to get out of the car so that they can better give directions, Adriana follows their orders. As she puts it, 'When two pretty brunette girls with awesome tits tell you to get out of the car, you're gonna get out of the car!' Gianna and Jade then up the ante by telling Adriana that she's #1 on both of their exception lists, which means that they agreed either one of them could bang Adriana and it wouldn't count as cheating! Adriana then tells them that she could show up even later for work as she exchanges sultry looks with the ecstatic couple. They excitedly give in as Adriana asks them if they have any fantasies she could fulfill. Things get steamy in the hot desert sun as the trio get to know each other outside before bringing the party inside to really turn up the heat.
Categories :
Brunette
,
Big Tits
,
Girl on Girl
,
Member Fantasy
,
Threesome
,
Masturbation
,
Natural Tits
,
Small Tits
,
Rim Job
,
Fingering
,
Tattoos
,
Squirting
,
Pussy Licking
,
Petite
,
Tribbing
,
Ass
,
Lesbian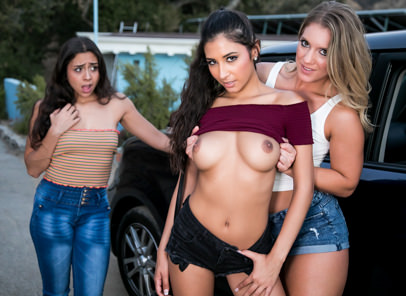 Date added:
2018-09-06
Rating:
Comments:
22
Description :
Pulling up to their destination, Gianna Dior lets Candice Dare and Lilly Hall know that they've arrived. Candice and Lilly couldn't care less at the moment since they are in the back seat locking lips. Gianna can see the girls kissing in the backseat and starts to get turned on. Hearing the girls moan is too much for her, but she shouldn't be looking ... she's a driver afterall and shouldn't meddle in others business. Candice and Lilly take notice of Gianna's wandering eyes and invite her to start touching herself as she watches on. All three girls then go inside to have a crazy lesbian threesome. The girls sit on each other's faces ensuring they all cum. While Gianna was in the driver's seat getting to the girl's home, this couple are definitely taking control of this threesome! They're having so much fun licking ass and pussy! When they finish, Gianna offers to always give the couple a lift!
Categories :
Blonde
,
Brunette
,
Big Tits
,
Girl on Girl
,
Member Fantasy
,
Threesome
,
Natural Tits
,
Rim Job
,
Fingering
,
College
,
Pussy Licking
,
Facesitting
,
Tribbing
,
Lesbian
,
Vignettes
Pictures with Gianna Dior