Vote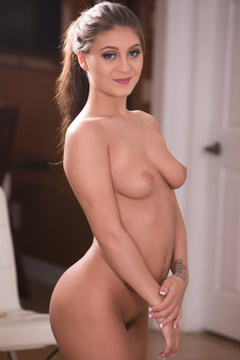 Videos with Jojo Kiss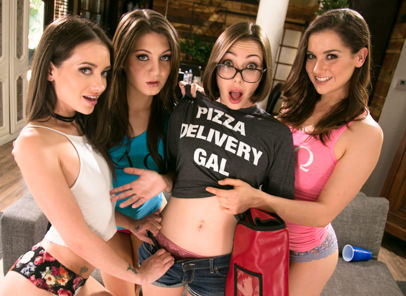 Date added:
2017-08-06
Rating:
Comments:
42
Description :
Sorority sisters Gia Paige, Kasey Warner and Jojo Kiss are playing truth or dare while waiting for their pizza to arrive. Right after Kasey dares Gia to fuck the next girl she sees, pizza delivery girl Jenna Sativa rings the doorbell. The fun loving teens bring her inside and feed her some pizza. Jenna tries to get back to her deliveries, but they insist on her staying and playing. Finally, Jenna agrees to help Gia fulfill her dare, without knowing what she's signing up to do.

Jojo and Kasey start making out to make Jenna feel more comfortable with Gia's kisses. She takes of her top and her pretty lace bra, beside the other two topless girls. Soon, Jenna's taking off her panties, letting Gia touch her trimmed bush. Gia eats her pussy, then swaps with Jojo who just came in Kasey's mouth.

Kasey makes her way between Jenna's legs, while Gia copulates with Jojo. The foursome make their way around till everyone gets a taste. Soon Jenna is riding Gia's face while Kassidy licks out Gia and Jojo rims Kassidy. Then everybody gangs up on Gia making her cum.

Jenna works up a sweat with Kassidy while Jojo tribs Gia. Kassidy plunges Jojo with her fingers, then tribs her till she cums. Both pairs of girls keep chowing down all over the sofa till they run out of steam. Good thing Jenna brought pizza!
Categories :
Brunette
,
Piercings
,
Girl on Girl
,
Member Fantasy
,
Masturbation
,
Natural Tits
,
Rim Job
,
Fingering
,
Teen
,
College
,
69
,
Tattoos
,
Pussy Licking
,
Facesitting
,
Tribbing
,
Ass
,
Lesbian
,
Orgy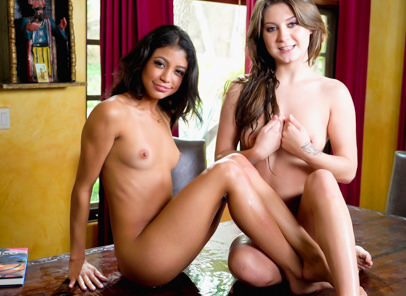 Date added:
2016-11-15
Rating:
Comments:
0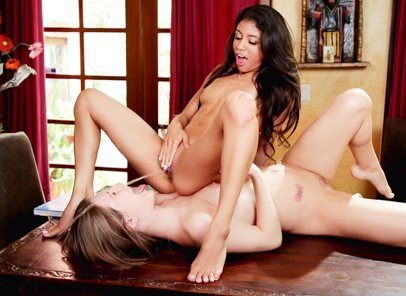 Date added:
2016-11-11
Rating:
Comments:
28
Description :
As the sexy JoJo Kiss attempts to perfect her Spanish, she enlists the help of bombshell Veronica Rodriguez. Veronica is confident she'll have JoJo speaking Spanish by the end of their lesson however, JoJo is not convinced. Veronica decides it's better to show JoJo what she's saying so she can better understand the language rather than just recite words for her to repeat. With this, JoJo is told to sit on the table, while Veronica recites erotic sentences for JoJo to repeat. It's not long before talking has ceased and the real lesson begins. As JoJo's dress falls to the floor, revealing her big, beautiful tits. Veronica can't control herself as she jumps onto the table and begins sucking her hard nipples. JoJo tries to gain control of the situation, wanting to get back to the lesson however, Veronica's mouth on her nipples excites her so much, the only words she can say are encouraging for Veronica, as she moans with pleasure. Spanish used to be difficult for her but now, with Veronica's help, it may just be her new favorite language!
Categories :
Brunette
,
Girl on Girl
,
Member Fantasy
,
Natural Tits
,
Small Tits
,
Rim Job
,
Fingering
,
Teen
,
College
,
69
,
Squirting
,
Pussy Licking
,
Petite
,
Latina
,
Tribbing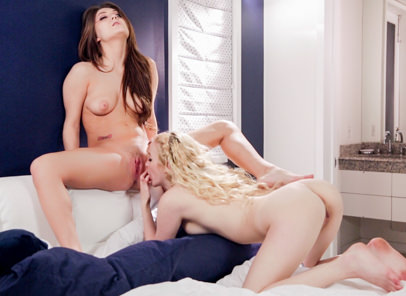 Date added:
2016-07-26
Rating:
Comments:
0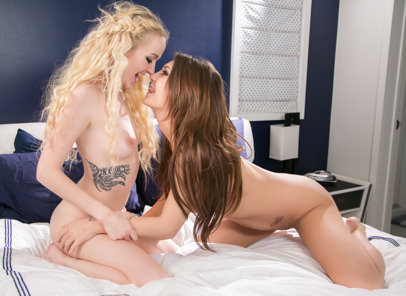 Date added:
2016-07-22
Rating:
Comments:
6
Description :
After an intense night of passionate lesbian sex, Jojo Kiss and Iris Rose wake up in each other's arms, completely in love. Iris receives a call from her mother asking her whereabouts and demands her immediate return. Iris refuses and makes it clear that she is a lesbian in love and if her mother can't accept her life choices than she would rather face the consequences. Iris begins to panic not knowing what to do, so Jojo grabs a bag suggesting they leave everything behind to start a new life. With the excitement and fear of the moment, the girls giggle with happiness as they celebrate by embracing one another and together, undertake another round of lesbian intimacy.

Jojo kisses Iris lovingly and Jojo spreads Iris' legs apart, soaking her pussy with her wet lips making her beg for more lesbian pleasure. They begin tribbing on the headboard, pushing their dripping lesbian pussies together and pinching their perky teen boobs until they clasp their hands together and orgasm simultaneously. Jojo remains on the base board and spreads her legs for Iris to return to eating her out. Iris licks Jojo's soft, tight lesbian pussy with her pierced tongue ring stimulating Jojo's clitoris like never before. The moment their pussies connect to their mouth in a 69 position they gasp with sexual satisfaction unable to control their moans and excitement demonstrating the power of young lesbian love!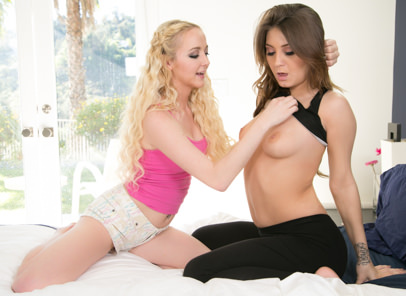 Date added:
2016-06-10
Rating:
Comments:
11
Description :
Iris Rose calls her lesbian lover Jojo Kiss letting her know she confessed to her mother that she is a lesbian. Her mother makes it clear that no daughter of hers will be living a life of sapphic pleasures. Iris leaves her home to be with Jojo and falls into her lover's arms seeking comfort from her grief. Jojo promises her that things will work themselves out and comforts her with passionate kisses. Iris' sexual desires increase as she craves her lesbian lover's sweet naked body. Iris places her lips in between Jojo's soft, shaved pussy and fingers her hole ever so lightly. The lover's 69, simultaneously fingering one another's wet pussies leaving a trace of delicious cum over their luscious lesbian lips. Iris spins around, flipping her ass in the air while Jojo continues eating out her sweet lesbian pussy until she cums in climactic ecstasy. Iris returns the favor by licking Jojo's perky boobs and spreading her legs apart exasperating her pussy for one more intense, hardcore orgasm!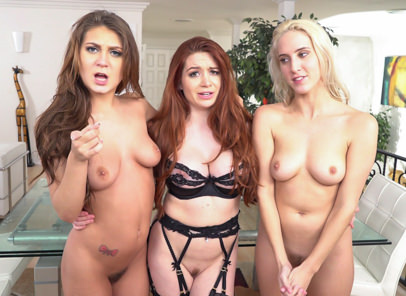 Date added:
2016-03-15
Rating:
Comments:
3
Categories :
Blonde
,
Brunette
,
Redhead
,
Piercings
,
Big Tits
,
Girl on Girl
,
Threesome
,
Natural Tits
,
Tattoos
,
Squirting
,
Behind the Scenes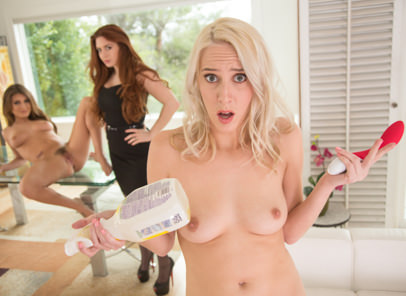 Date added:
2016-03-10
Rating:
Comments:
39
Description :
Cadence Lux didn't know she would be walking into a hell storm of lesbian sex when she was hired to clean Miss Veronica Vain's estate. When she meets the red headed vixen, Veronica immediately orders Cadence to clean off her hands, feet and oddly enough, her own private parts which means her undressing in an orderly fashion. Cadence is more than confused at this point but she doesn't want to lose her job and is promised a huge tip if she does exactly what Veronica asks!

Cadence is instructed to follow Veronica into the living room, where she begins her cleaning duties completely naked. While she is on her knees scrubbing away, Veronica leaves for a brief moment only to return wearing black lingerie and with a sex toy in her hand. Veronica orders the innocent house keeper to seductively clean her body from top to bottom, however, Cadence speaks out of turn, claiming her company never said anything about having to clean a physical body! Veronica is tired of hearing Cadence complain and gives her the ultimatum; either she cleans her off with her tongue or shows herself out with nothing to show for. Cadence complies, unable to argue with her boss' sexual fantasies and begins her duties to satisfy the lesbian over bearer.

Cadence licks her mistresses toes inch by inch with her tongue, then her arms, chest and ass, making Veronica pleasantly aroused. Cadence is asked to swallow the vibrator with her mouth, making it nice and wet to then insert inside Veronica's pussy. Cadence thrusts the vibrator deep inside of her master, creating an explosion of squirt all over the floor which she is then instructed to lick clean. Since Cadence is cooperating extremely well, Veronica returns the favor by pleasuring Cadence's pussy with a walloping orgasm. Veronica summons Jojo Kiss, the very skillful chef she hired who can be more than helpful with Veronica's special request, A threesome of lesbian apogee and glorious eroticism!
Categories :
Toys
,
Blonde
,
Brunette
,
Redhead
,
Piercings
,
Big Tits
,
Girl on Girl
,
Threesome
,
Natural Tits
,
Tattoos
,
Squirting
,
Pussy Licking
,
Tribbing
Pictures with Jojo Kiss